Committee to steer forum's affairs until the emergence of substantive leadership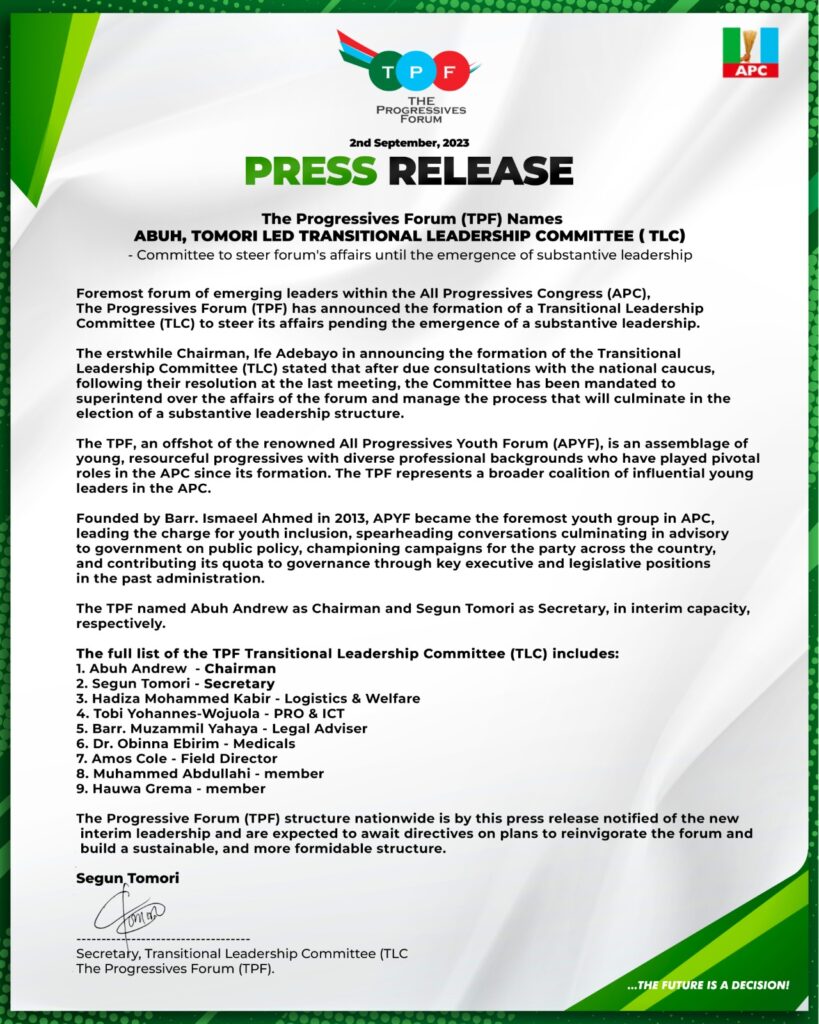 Foremost forum of emerging leaders within the All Progressives Congress (APC), The Progressives Forum (TPF) has announced the formation of a Transitional Leadership Committee (TLC) to steer its affairs pending the emergence of a substantive leadership.
The erstwhile Chairman, Ife Adebayo in announcing the formation of the Transitional Leadership Committee (TLC) stated that after due consultations with the national caucus, following their resolution at the last meeting, the Committee has been mandated to superintend over the affairs of the forum and manage the process that will culminate in the election of a substantive leadership structure.
The TPF, an offshot of the renowned All Progressives Youth Forum (APYF), is an assemblage of young, resourceful progressives with diverse professional backgrounds who have played pivotal roles in the APC since its formation. The TPF represents a broader coalition of influential young leaders in the APC.
Founded by Barr. Ismaeel Ahmed in 2013, APYF became the foremost youth group in APC, leading the charge for youth inclusion, spearheading conversations culminating in advisory to government on public policy, championing campaigns for the party across the country, and contributing its quota to governance through key executive and legislative positions in the past administration.
The TPF named Abuh Andrew as Chairman and Segun Tomori as Secretary, in interim capacity, respectively.
The full list of the TPF Transitional Leadership Committee (TLC) includes:
Abuh Andrew – Chairman
Segun Tomori – Secretary
Hadiza Mohammed Kabir – Logistics & Welfare
Tobi Yohannes-Wojuola – PRO & ICT
Barr. Muzammil Yahaya – Legal Adviser
Amos Cole – Field Director
Dr. Obinna Ebirim – member
Muhammed Abdullahi – member
Hauwa Grema – member
The Progressive Forum (TPF) structure nationwide is by this press release notified of the new interim leadership and are expected to await directives on plans to reinvigorate the forum and build a sustainable, and more formidable structure.
Segun Tomori
Secretary, Transitional Leadership Committee (TLC)
The Progressives Forum (TPF)